Removable partial dentures are composed of a metal framework with plastic teeth and gum areas. The framework includes metal clasps or other attachments, which hold the denture in place. Partial dentures are removed easily for cleaning.
Flexible Partial Dentures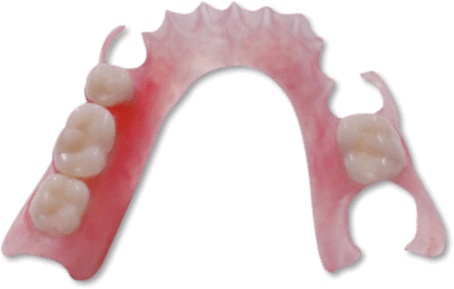 A rather comfortable tooth replacement option is a flexible partial denture. These dentures are made from a composite plastic resin and can include a bio-compatible metal for superior strength in some cases.
Temporary or interim appliances serve many useful purposes and are often an integral part of a prosthetic treatment plan. These appliances can be designed to be either fixed or removable. This simple appliance is excellent for temporary replacement of front teeth while the patient is waiting for a permanent bridge, a partial, or implants. This removable interim bridge is made of a clear vacuum-formed material. The appliance simply snaps into place.
It is sometimes difficult to get used to your newly placed dentures. They can feel bulky, loose and awkward. In order to make your adjustment period smoother, here are a few guidelines to follow:

- Wear your dentures all the time after you first receive them.
- Never use adhesives on your dentures unless instructed to by your doctor.
- When you go to sleep, remember to always remove your dentures.
- Always brush your dentures after removal and store them in a bowl of water. You can soak your dentures in a denture cleaner as well, but only after you have brushed them.
- If you experience any sore spots, looseness or discomfort, please let your doctor know so they can help.

Never try to adjust your dentures on your own. Each individual will have a different adjustment period, and it will take time for you to become comfortable with your new teeth.
Get The Care You Deserve!
Tomlinson Dental would love to meet you and your family and provide you with the dental care you deserve! Our office is easily accessible to those living near Tampa to get the care they deserve.
Request An Appointment Online
Or call us today at: (813) 437-6080